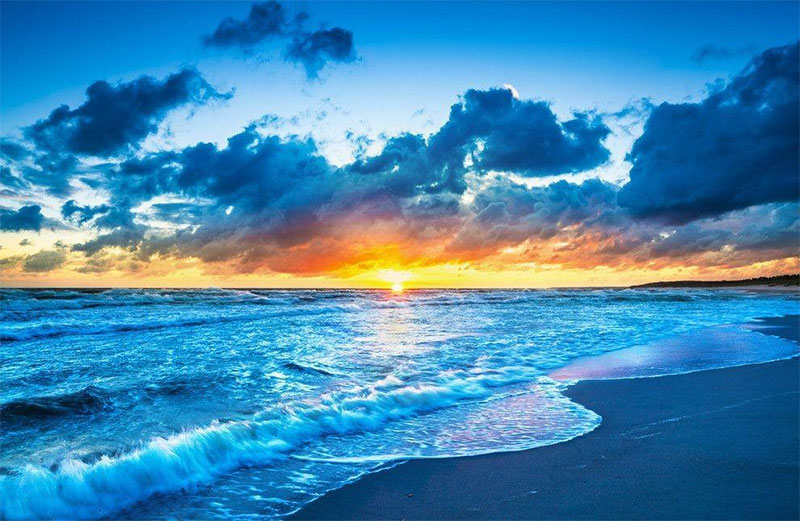 Yang Pei An 杨培安 - Da Hai 大海【Samudra(Lautan)/ Ocean】[Pinyin,English,Indonesian Translation]
作词:陈大力
作曲:陈大力
从那遥远海边
Cóng nà yáoyuǎn hǎibiān
From the far away seaside
Mulai dari pantai yang jauh
慢慢消失的妳
Màn man xiāoshī de nǐ
You slowly disappeared
Dirimu yang perlahan-lahan menghilang
本来模糊的脸竟然渐渐清晰
Běnlái móhú de liǎn jìngrán jiànjiàn qīngxī
The originally blurry face suddenly starts to become clearer
Wajah yang awalnya kabur tiba-tiba mulai menjadi lebih jelas
想要说些什么又不知从何说起
Xiǎng yào shuō xiē shénme yòu bùzhī cóng hé shuō qǐ
I wanted to say something, but don't know where to start.
Ku ingin mengatakan sesuatu, namun tidak tahu harus mulai dari mana
只有把它放在心底
Zhǐyǒu bǎ tā fàng zài xīndǐ
I can only keep it all in my heart
Hanya bisa menyimpan semuanya di hatiku
茫然走在海边看那潮来潮去
Mángrán zǒu zài hǎibiān kàn nà cháolái cháo qù
In a lose, I walked at the seaside and looked the tides came and went
Dengan linglung, aku berjalan di pantai dan melihat ombak datang dan pergi
徒劳无功想把每朵浪花记清
Túláo wúgōng xiǎng bǎ měi duǒ lànghuā jì qīng
Futilely trying to remember every wave
Sia-sia saja mencoba mengingat setiap gelombang ombak
想要说声爱妳却被吹散在风里
Xiǎng yào shuō shēng ài nǐ què bèi chuī sànzài fēng lǐ
I want to say I love you, but the voice got dispersed in the wind
Ku ingin mengucapkan bahwa aku mencintaimu, namun suara itu tersebar dalam angin
猛然回头妳在那里
Měngrán huítóu nǐ zài nàlǐ
Suddenly I turned around, where are you?
Tiba-tiba ku berbalik, kau ada dimana?
如果大海能够唤回曾经的爱
Rúguǒ dàhǎi nénggòu huàn huí céngjīng de ài
If the ocean can call back the love long ago
Jika lautan bisa memanggil kembali cinta yang pernah ada
就让我用一生等待
Jiù ràng wǒ yòng yīshēng děngdài
Then let me use my all life to wait for it
Maka biarkan aku menunggunya seumur hidup
如果深情往事妳已不再留恋
Rúguǒ shēnqíng wǎngshì nǐ yǐ bù zài liúliàn
If you no longer recall the deeply felt past fondly
Jika kamu tidak lagi mengingat masa lalu yang sangat terasa sayang
就让它随风飘远
Jiù ràng tā suí fēng piāo yuǎn
Then just let it be gone with the wind and drift faraway
Maka biarkan saja pergi dengan angin melayang jauh
如果大海能够带走我的哀愁
Rúguǒ dàhǎi nénggòu dài zǒu wǒ de āichóu
If the ocean can carry away my sorrow
Jika lautan bisa membawa pergi kesedihanku
就像带走每条河流
Jiù xiàng dài zǒu měi tiáo héliú
Just like it takes away every river
Seperti membawa pergi setiap sungai yang mengalir
所有受过的伤 所有流过的泪
Suǒyǒu shòuguò de shāng suǒyǒu liúguò de lèi
All the wounds that I suffered, all the tears that flowed
Semua luka yang aku derita, semua air mata yang pernah mengalir
我的爱 请全部带走
Wǒ de ài qǐng quánbù dài zǒu
And my love, please take all of them away
Dan cintaku, tolong bawa mereka semuanya pergi
Download Mp3/ Mp4:
Grup WhatsApp Music Choice 音乐选择
https://chat.whatsapp.com/5WSlSQml0La0Sl7hVPAhbn
Line Music Choice 音乐选择
http://line.me/ti/p/%40bdh4724p
Telegram Music Choice 音乐选择
https://t.me/Music_choice1
Website
http://www.Lyricpinyin.com
Request Song To
Music Choice Club
https://www.facebook.com/Musicchoiceclub/